Microsoft wasn't kidding when it billed its Windows 10 event today as the "next chapter" for the software company.
From hardware to holograms, the company packed a slew of announcements into a feature-packed presentation that lasted around 2 hours and 15 minutes.
Here's a cheat sheet to Windows 10 and everything else that was announced today at Microsoft's Redmond, Washington, headquarters.
Windows 10
Let's get right down to it. Windows 10, the operating system update that is so radical it prompted Microsoft to skip straight from Windows 8, will be coming to users "later this year."
While the vague release date may illicit a few groans from weary Windows 8 users, there is a spot of good news. The update will be free for users who have Windows 8.1, Windows 7 and Windows Phone 8.1.
"The free upgrade is primarily for developers to get everyone on one platform," Patrick Moorhead, an analyst at Moor Insights & Strategy, told ABC News. "It benefits Microsoft, too, as Windows 10 is a giant door to their services like One Drive and Office 365."
The world met Windows 10 at an event last year, however today Microsoft showed off new consumer driven features that support the company's goal to increase productivity.
Good News for Gamers
With Windows 10, you can stream Xbox One games to any PC or tablet in your house. You're no longer married to the gaming console.
Better yet, two friends can even play a multi-player game with one person on Xbox and another on their PC.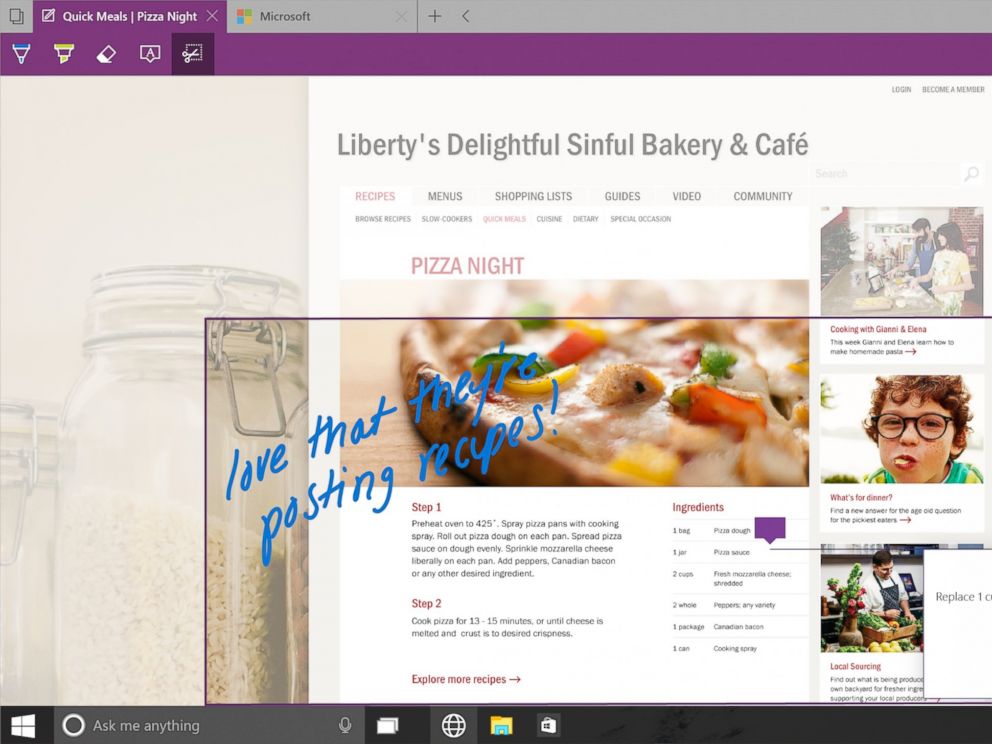 Cortana Comes to the PC
Microsoft's sassy virtual personal assistant, Cortana, will be integrated into Windows 10, where users can ask her to do things, such as pull up a certain PowerPoint presentation.
Proving that she's becoming more like Samantha, the sultry virtual personal assistant in the movie "Her," Cortana can also take notes on your habits and tailor your experience. (Users control the notebook, so you can make sure Cortana only learns as much as you want her to.)
Project Spartan
Microsoft unveiled a new browser today, called Project Spartan, but don't think of it as a total Internet Explorer killer.
Moorhead said the faster, sleeker browser was developed to work best on more modern websites, however some businesses will still rely on Internet Explorer for compatibility.
Project Spartan comes with some exciting features, including the ability to write anywhere on a window and quickly share it.
For those who have a love-hate relationship with Internet Explorer, the news is welcome, but don't expect to see the new browser anytime soon. Microsoft executives said it will not be in the first build of Windows 10.
Read more: Windows 10: What You Missed at the Microsoft Event
Tags:
Microsoft
,
Technology
Related posts